Industry-standard tools to simplify trade management
We partner with you to implement flexible products that manage complex problems and ever-changing needs
Why choose our trade management tools?
COUNT ON US TO BE THERE
We work with financial firms to improve systems for order management, trade processing, data analysis, and other automation & data processing needs.
20 YEARS OF INDUSTRY EXPERIENCE
CRC has extensive experience working with financial firms in various areas including end-to-end UIT order management, trade processing workflow, data analysis for compliance and reporting, and other automation and data processing needs. Our practical expertise in integrating with and improving client systems also means that we are comfortable partnering with our clients to understand and develop tools for individual needs to comprehensively improve workflow.
OUR STANDARD OF EXCELLENCE
We are technical problem solvers. CRC balances our curiosity, experience and continuous improvement mindset to be a valuable and relevant partner to our clients. We encourage the spirits of pride, caring and curiosity within our team members to foster a creative and productive environment. This allows CRC to offer its clients and partners the aspects of quality, timeliness, flexibility and value on which the company was founded.
An efficient workflow is essential to trade management.
We've supported dozens of brokerage firms in a constantly moving industry — we make sure our clients are positioned to address changes proactively.
Our Values
We believe that there is a solution for every problem, and your trust is our #1 goal as we work to discover answers together.
Providing
Quality Work
We are invested in the platforms we produce and the value they provide to our clients. We are committed to providing the best quality and value for IT products and services.
Building
Strong Relationships
Legacy is important to us, so we never take shortcuts. We strive to build consistent and reliable partnerships with our clients.
Pushing
Constant Progress
We take the initiative in challenging ourselves to do better and continually adjust to improve our products, process, and workflow.
Crafting
Accessible Technology
We care about implementing solutions that you can easily use and understand, so we support our clients throughout development and implementation.
Discovering
Flexible Solutions
We are committed to helping our clients achieve the best results. We maintain an adaptable mindset that allows us to shape our tactics to fit your needs.
Implementing
Effective Systems
We design systems with excellence in mind, taking a holistic approach to problem-solving that ensures efficiency and practical utility.
Our Process
With our long history of automated workflow management, we leverage past successes — and failures — to help design and build a solution for almost any need. We prefer partnerships where the client is involved in our Agile process: your needs inform our design.
Understand
Solve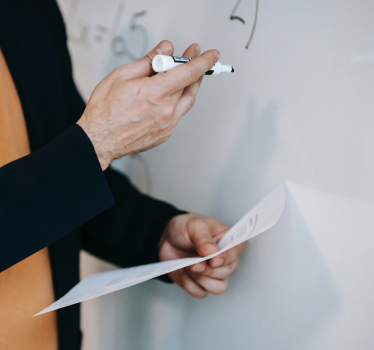 Implement
CASE STUDY
Inventory Monitor
Smart Investing Project
We began by working with the business and project manager to understand the problem they were trying to solve. Based on a request to use existing CRC platforms, we determined the best integration paths to provide a solution.

Our client needed to maintain certain inventory levels within particular products and ranges (subject to change). We proposed a solution to manage the three different elements: inventory, securities to monitor per inventory, and range to hold per security.

Leveraging our relationship with other departments at our client site, we created a system for the order management to bring the inventory within the range. This process involved working with compliance and management to ensure an audit trail and appropriate separation of duties existed in the workflow process, while maintaining the automated workflow process.

Our solution provided a straight through process that minimized risk and manual work by automating the monitoring and maintenance of the inventories. The development was completed withing existing CRC platforms and within the quoted project budget, ahead of schedule.